Welcome to
Chestnut Hill Church U.C.C.
6870 Chestnut Hill Church Rd. Coopersburg, PA 18036 610-967-1196
You Are Welcome Here!
Our mission as a congregation is to worship, minister and share the gifts of the Spirit with one another and our community. We are a family of faith that welcomes all to worship and serve with us, no matter who you are or where you are in life's journey. Learn more about us here.
​
​
SUMMER WORSHIP SCHEDULE:
Starting September 15, service will start at 10 am
Meet & Greet Fellowship follows at 11:15 am
​
Sunday School is held at 10:15 am during church service
​
Check out our Events and Outreach pages for more information
​
ASH WEDNESDAY FEBRUARY 26 SERVICE AT 7 PM
​
Texas Roadhouse Dine to Donate Fundraiser
Thursday February 27, 2020 from 3 pm- 10 pm
6268 Hamilton Blvd. Trexlertown - 610-395-2611
Must present this flyer at time of dining - Click Here
​
Chestnut Hill Church is honored to sponsor Boy and Girl Scouting Troops. Click here for meeting times and contact info
​
Betty Lou's pantry - For January and February we are collecting paper products - toilet paper, paper towels, paper plates, napkins and paper cups.
March and April we will be collecting Hygiene products - toothpaste, toothbrushes, soap, shampoo, and conditioner
Thoughts from Pastor Christian

Greetings and thank you for stopping by to check in on Chestnut Hill Church!
What a great privilege and honor it is to be a part of such a loving group of faithful Christians and I have great hope for our future together. We are venturing into new territory and looking forward to reaching out to our community in new and exciting ways. Of course we still have all of our favorites too, which you can find in other areas of our website!
​
As a pastor, I have to say that my greatest honor is to watch folks become more closely connected with God through study and prayer. Our family, and we are very much a family, has shown me what it means to care for one another through prayer. The other thing that I am truly blessed to say each week is that we live out our statement, "No matter who you are, or where you are on life's journey, you are welcome here!" And we do live that out with our loving welcome to all who join us in worship and activities.
As we move into the future together, I am reminded that Jesus taught us to open to the new as well as the traditional. We are a traditional kind of people in that we live richly into our heritage as a German Reformed congregation but we also have opened our hearts to the still speaking God of today in finding new and exciting ways to engage and be a part of one another's lives.
There is so much for us to learn from one another and so much for us to give thanks for, so "This is the day the LORD has made. We will rejoice and be glad in it." (Psalm 118:24 NLT).
​
Peace and blessings, Christian Creyer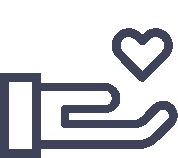 "Whoever is generous to the poor lends to the lord, and he will repay him for his deed."